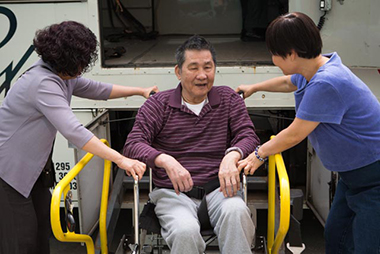 The Day Center of the Montreal Chinese Hospital offers services to members of the Chinese and South-East Asian communities.
Its staff help increase the quality of life for those with restricted physical, social or psychosocial autonomy by providing activities, preventive care and treatment.
Objectives
Provide physical and intellectual stimulation through appropriate exercises and group discussions
Provide a space for socializing with games, crafts, cooking, and outside excursions
Promote social reintegration
Provide respite so caregivers can rest
Registration
To be admitted to the Montreal Chinese Hospital's Day Center, you must file an application with a health and social services center (CSSS) in your neighborhood.
>> Find the CSSS in my neighborhood..
Eligibility Criteria
Aged 50 years or more
Has a Medicare card and will allow the Hospital access to medical and social service information
Presents a loss of physical, cognitive and/or social autonomy
Unable to participate in community activities in your neighborhood due to sociolinguistic barriers
Willing to participate in the development and implementation of an intervention plan with Hospital staff
Has sufficient capacity to perform daily activities with minimal support
Able to cooperate and function in a group environment
Business hours
The Day Center is open Tuesday and Wednesday from 9:30 am – 2:30 pm.
Cost
The activities are free. Only meals have a small fee.