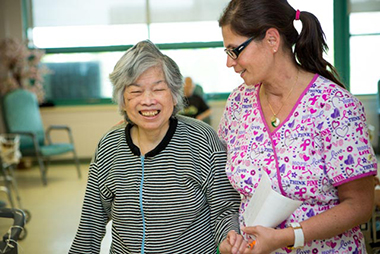 Older people love the presence of volunteers and really appreciate their attention.
We have many opportunities for volunteers to interact with residents according to their interests and availability:
Friendly visits
Leisure and recreation activities (cards, bridge, bingo, bowling, singing, themed meals, outings, etc.)
Accompaniment to medical appointments
Assistance during meals
Our team welcomes new volunteers who would like to give time to improve the wellbeing and quality of life for residents.
If you would like to become a volunteer, please contact our volunteer coordinator:
Vivian Juang
Email : Info.hcm@ssss.gouv.qc.ca
Tel. : 514 871-0961, ext: 243